TransMac Details
Open Mac format disk drives and dmg files from Windows.
---
Download TransMac as a zip or executable: tmsetup.zip | tmsetup.exe

Trial limitation: All features are the same but TransMac will run for 15 days from installation to allow user evaluation. After that a license key must be purchased and entered to allow continued use.
System requirements: Any version of Windows 10, 8, 7, Vista or XP.
Changes in latest version: changelog.

Buy TransMac (US $59.00 for single user license. Site and multiple license discounts available)
---
Features:
Open Mac HFS/HFS+ format disk drives, flash drives, CD/DVD/Blu-ray media, HD floppies, dmg, dmgpart, sparsebundle and sparseimage files. NOTE: Apple File System (APFS) volumes will be supported read-only in the next version.
Copy files to Mac HFS+ disks and dmg images.
Format for Mac and restore disks and flash drives.
Create, compress, expand (convert to iso), split and merge dmg files.
Built in burner functionality to burn ISO and dmg files directly to CD/DVD/Blu-Ray.
Read Mac multisession and hybrid CDs.
View partition layout.
---
NEW! TransMac Pre-release with APFS support:
Pre-release software may have significant bugs or defects. Use at your own risk.
Please send feedback about problems/suggestions using our comment form.
TransMac v12.1b3 download
Apple File System (APFS) read support.
---
Screen Snapshot: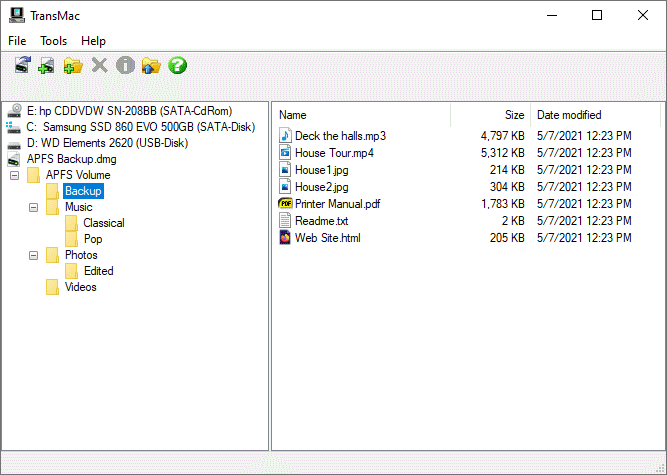 ---
Reviews/Ratings:

Rated 5 out of 5 stars at ZDNet


Rated 5 out of 5 cows at Tucows

Rated 5 out of 5 at Softpedia
---