TransMac Details
TransMac Details
Open Mac APFS and HFS format disk drives and dmg files from Windows.
---
Download TransMac: tmsetup.zip

Trial limitation: All features are the same but TransMac will run for 15 days from installation to allow user evaluation. After that a license key must be purchased and entered to allow continued use.
System requirements: Any version of Windows 11, 10, 8, 7 or Vista.
Changes in latest version: changelog.
TransMac help page: help.

Buy TransMac (US $59.00 for single user license. Site and multiple license discounts available)
---
Features:
Apple File System (APFS) volume read support.
Open Mac APFS/HFS/HFS+ format disk drives, flash drives, CD/DVD/Blu-ray media.
Open Mac APFS/HFS/HFS+ format disk image files (dmg, dmgpart, sparsebundle and sparseimage).
Encrypted disk image support (full version only).
Copy files to Mac HFS+ disks and dmg images.
Format as HFS+ for Mac .
Save and restore images of disks and flash drives.
Create, compress, expand and split dmg files.
Built in burner functionality to burn ISO and dmg files directly to CD/DVD/Blu-Ray.
Read Mac multisession and hybrid CDs.
View partition layout.
---
Screen Snapshot: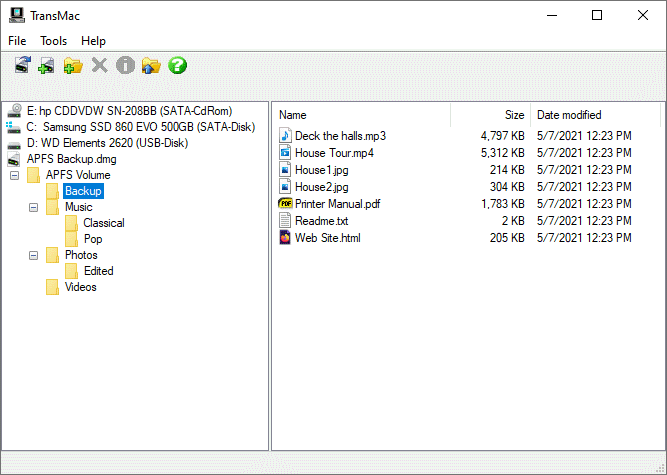 ---
Reviews/Ratings:

Rated 5 out of 5 stars at ZDNet

Rated 5 out of 5 cows at Tucows

Rated 5 out of 5 at Softpedia
---